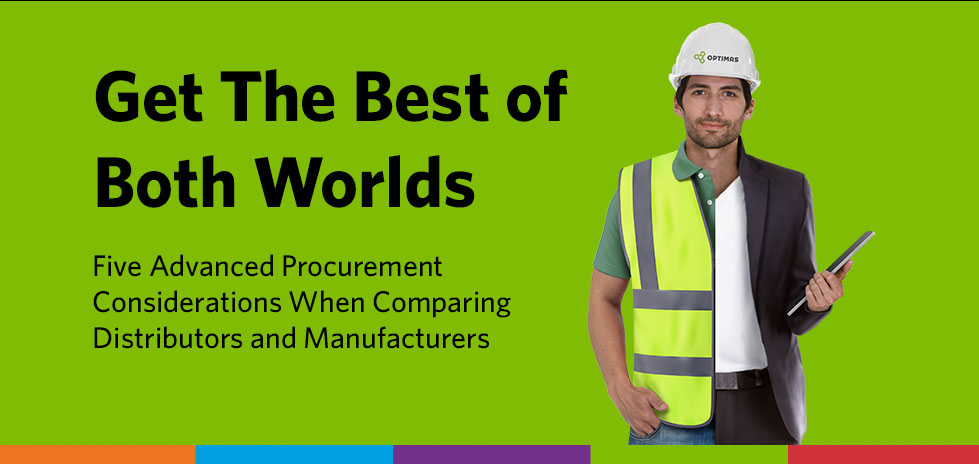 5 Advanced Procurement Considerations When Comparing Distributors and Manufacturers
There are good reasons for OEMs and procurement professionals to acquire their parts directly from a manufacturer and there are scenarios in which it makes sense to contact a distributor. How do you determine whether or not to go direct or through a distributor? In many scenarios, this either/or decision is not in your best interest. Aiming for the best of both worlds, some choose a partner with its own in-house manufacturing that also specializes in distribution.
In this blog, we will explore five key procurement considerations when comparing distributors and manufacturers for parts acquisition:
Quality
Cost Reduction
Supplier Optimization
Regionalized Sourcing
Risk
Management
Learn which route is best for your procurement needs and how combining manufacturing and distribution strategies creates several beneficial efficiencies along the way.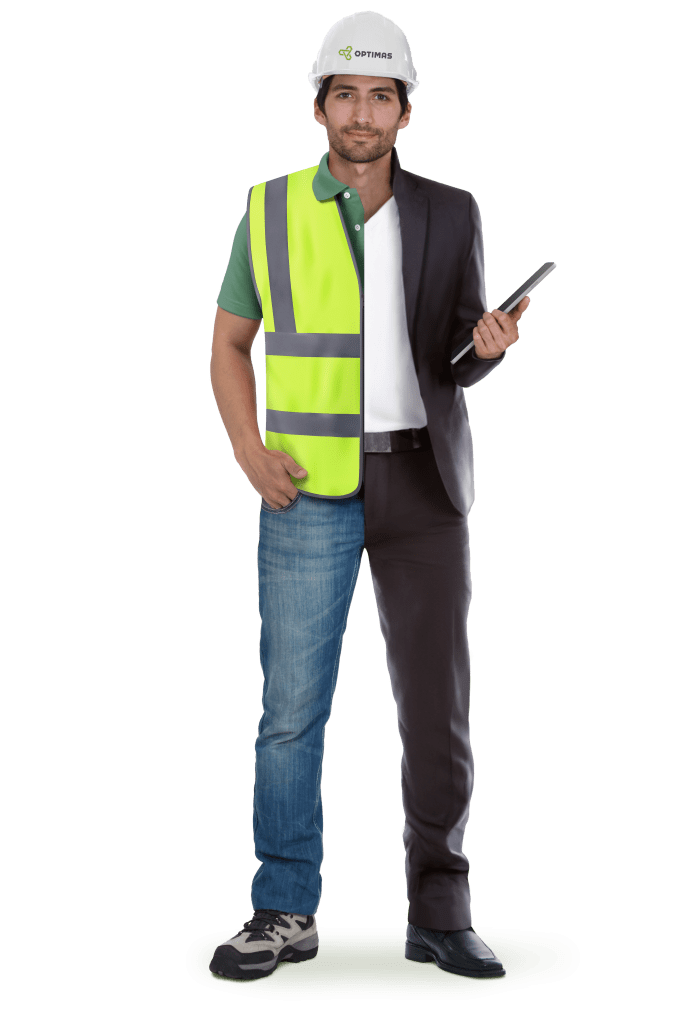 Quality
Not only do customers want supply chain assurance and low lead times, but they also want a better understanding of how their parts are manufactured. While quality has always been important, it's becoming even more important as fasteners are designed for more critical applications, like products that secure batteries for electric vehicles.
"OEMs seek out suppliers with whom they have the most confidence in their manufacturing process and the sub-suppliers that are augmenting the cold forming and heat plating techniques," said Optimas Director of Manufacturing Sales, Larry Fey. "As a result, more OEMs are choosing suppliers that have proven in-house technical expertise in addition to quick delivery."
"It's less about price and more about consistent and quick fulfillment and a full-service experience," said Optimas Global Business Development Director, Juan Jimenez. "Market demands based on company acquisition strategies, distribution network, service reputation and quality certifications indicate whether a partner has the right foundation and process in place."
Cost Reduction
Full-service manufacturers and distributors—like Optimas— can combine the expertise of application, manufacturing and industrial engineers to determine if you have the right part and installation process from a P&L perspective. Manufacturers can identify the technical cost drivers of a part and work with end customers to determine alternative solutions. Optimas manufacturing engineers will design-out inefficiencies and come up with the lowest cost, highest quality part.
"Industrial and application engineers from Optimas work in tandem to execute line walks, look for part rationalization and standardization opportunities, and help OEMs elevate productivity and profitability. Distribution experts can help maximize floor space, eliminate SKUs, and analyze the soft costs associated with minimizing PO transactions," said Jimenez.
Supplier Optimization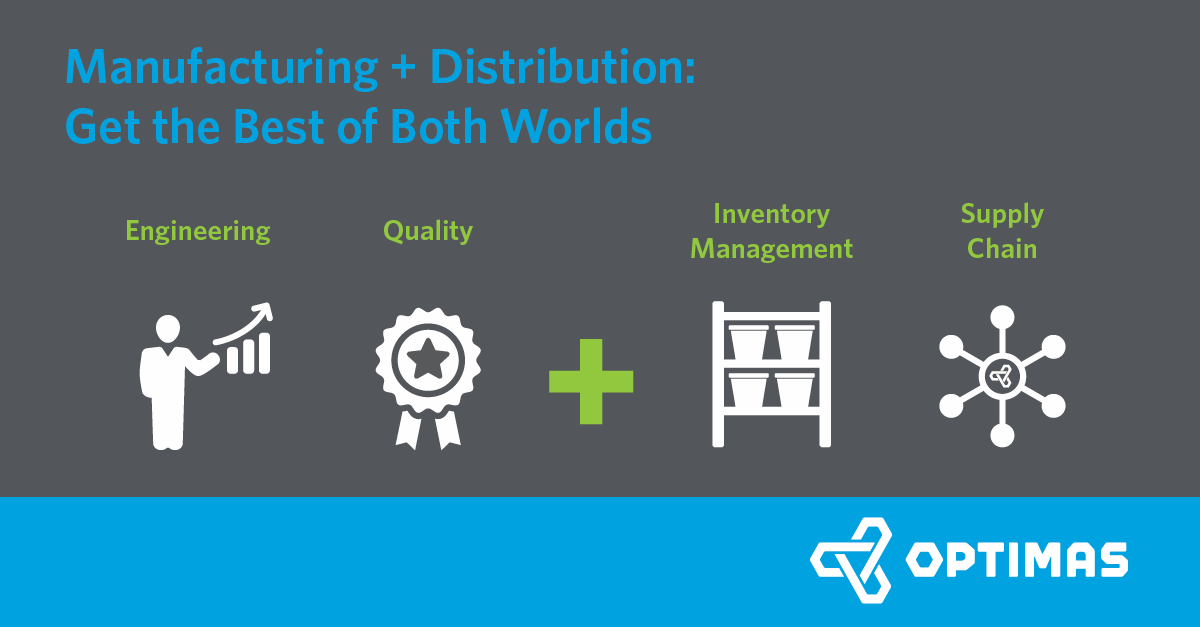 Choosing a single full-service manufacturer and distributor as part of your procurement strategy results in fewer vendors, less administrative costs and other soft cost benefits.
"As both a manufacturer and a distributor, Optimas can look at a customer's BOM as well as their rubber and plastic components, and other C-Class items that a manufacturer alone might not be able to provide," said Jimenez. "The ability to dual source adds significant strength to your supply chain and procurement strategies because you can combine the breadth and depth of sourcing with the ability to locally manufacture more complex parts."
Regionalized Sourcing
"More than ever, customers want to work with a supplier in their local time zone," Jimenez said. "With that localization, they get the product within a two- to three-day period, rather than shipping it across the globe."
Optimas has elevated its distribution network and manufacturing capabilities in the US, UK and, soon to be, Mexico.
Having a large network of domestic brick and mortar facilities enables Optimas to reroute material to different parts of the world based on market demand. This regionalized approach provides customers with technical access, design reviews, shorter lead times and local support from a single provider.
"Customers get to work with the same people and machines for their highly engineered fasteners, which creates a comfort level from a technical, quality and delivery perspective," said Fey.
"Procurement professionals also get the highest variety of delivery options, utilizing the distribution network, such as dock-to-dock, dock-to-market, or dock-to-line," adds Jimenez.
Risk
Management
A snag in your production line could impact every other channel of your business. A single-source partner can minimize your procurement risk.
Source it, Make it or Design it
With a full-service distributor, you can take advantage of their centralized global platform supported by predictive analytics to provide greater supply chain visibility and ensure your stock levels match product demand. By working with a manufacturer, you can take advantage of their manufacturing capacity, engineering creativity and existing carrier relationships to guarantee reliable delivery.
A company that has both regionalized distribution and manufacturing helps customers with foreign exchange, customs, geopolitical and transportation issues. With many fluctuations happening in our marketplace today, procurement specialists depend on business partners that can be flexible to limit production delays.
Bonus: Part Characteristics
For less complex parts and a wider variety of options, Optimas distribution experts are the best bet for OEMs. For more complex part requirements, such as product radii, tolerances, drive mechanisms, base materials, or outside surface requirements (to name a few), tenured Optimas manufacturing engineers can recommend the best path forward.
NEXT STEPS
Optimas Solutions is one of only a few companies that have in-house cold forming in the UK, US and, soon to be, MX, that complements global distribution for parts procurement. By combining manufacturing and distribution abilities, Optimas Solutions represents the best of both worlds which is a big win for savvy OEMs and distributors.
Listen to our podcast and learn more about Optimas' complementary approach to sourcing.
Read more about this procurement strategy in the latest American Fastener Journal!
Start a discussion with one of our experts to learn more how you can directly benefit from Optimas' combined methodology.