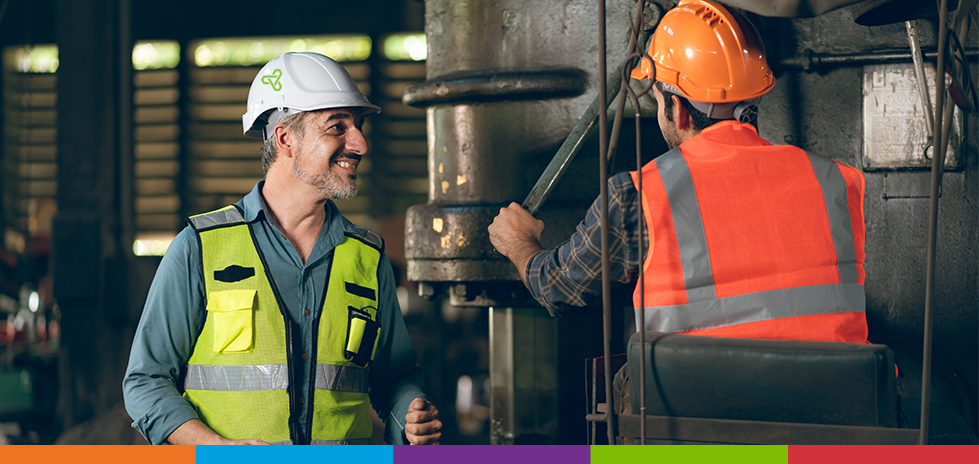 Discover New Production Line Efficiencies With a Gemba Walk
Understanding the Optimas Line Walk
The average tenure on our engineering team is 15-20 years. So, when OEM operations and engineering professionals invite Optimas experts like Director of Engineering, Steve Adkins, or Applications Engineer, Mike Eusanio, into their facility for a line walk, it's not because they have problems. It's because they want solutions.
A Production Line Walk is also called a Gemba Walk. The Japanese term Gemba translates to "the actual place," which in manufacturing is the shop floor–the place manufacturing is completed. Gemba Kaizen is a term used to describe the concept of continuous improvement designed for enhancing processes and reducing waste.
A line walk brings together company leaders in purchasing, operations and engineering to see with their own eyes the way parts move through production. The experience often reveals gaps between how processes were designed and how they are accomplished. The goal is to identify potential productivity and efficiency gains while addressing logistical challenges.
What should you expect during a line walk?
The short answer is questions. You can expect our experts to ask a lot of them because we bring a particular perspective in application design, installation and manufacturing engineering to fastener usage. We'll even bring in our own suppliers, if necessary, in order to share a comprehensive view of everything we can provide.
Conversations typically start with individuals on the ground. We get operators involved as much as possible, so we understand what they're seeing and document their challenges. Solutions are developed alongside the people they affect.
Prior to the Walk starting or within the first cells or stages of a production line, we're looking for process improvements by asking questions to production leaders like: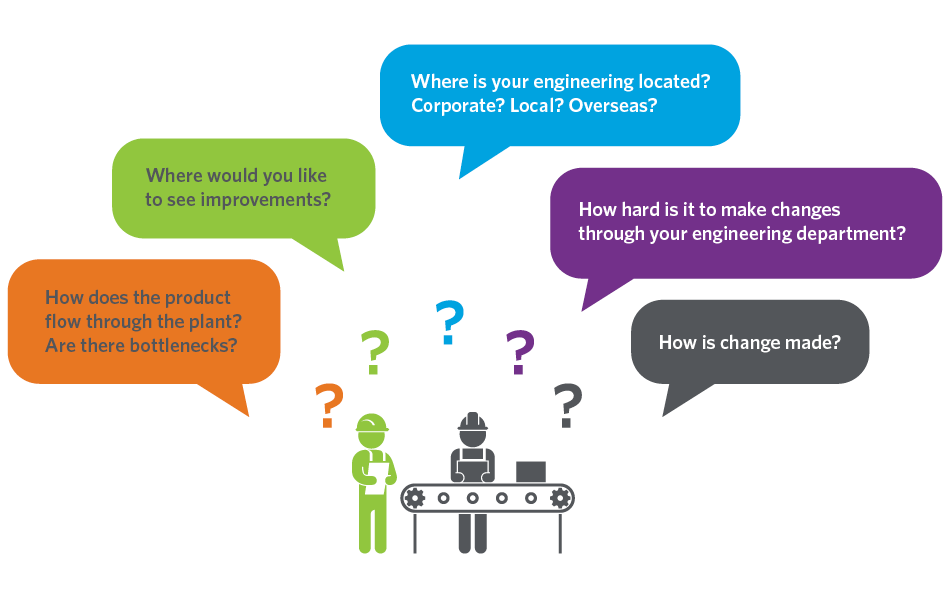 Where would you like to see improvements?
What are your reduction goals (parts, time, money)?
How many parts do you want to consolidate or eliminate?
Are you looking for throughput improvement?
Are there quality issues to address?
Do you have delivery efficiency issues, quickly getting parts to the right point of use?
Have you experienced design issues?
Are here installation issues to address?
How does the product flow through the plant?
Where is your engineering located?
Corporate? Local? Overseas?
How hard is it to make changes through your engineering department?
How is change made?
How can we make improvements with simplicity in mind, so change is straightforward, easy to implement quickly, and doesn't require much new testing?
Ultimately, we do a line walk to understand the environment in which we will be delivering fasteners and/or managing the inventory and to ensure our parts performance.
Every line walk ends with a verbal recap of our observations and recommended action items, followed by an email summary of everything that was discussed on-site.
Some recommendations may result in a slightly higher cost per piece. However, they always lower total cost of ownership and/or make it easier/faster for an operator to complete an activity.
Benefits of a Line Walk/Answers
Since manufacturers usually have fastener experts in-house, several opportunities to improve efficiency go unnoticed.
For example, you may have several fastener suppliers dropping parts off at a dock. Someone must take each of those boxes to a central store. A runner or someone from the assembly line must walk to the central store to get the parts needed and walk them back to their point of use. That's a lot of time spent on a low-value task rather than assembling components.
Another positive outcome that often surfaces is identifying opportunities to reduce cost by consolidating the amount of part numbers your company needs to buy, administer and handle. If we can simplify how parts are acquired, by consolidating the number of parts or suppliers providing them or supplying them as a kit, you'll need to use less floor space and supporting resources, which can then be reallocated to other high-value tasks.
One recommendation we recommend often is setting up racks near your high-volume points of use so your operators can continue working instead of going back and forth for parts every shift.
Each conversation generates new ideas, creating better thought processes, and establishing open communication between partners. In turn, one line walk sets the foundation for valuable visits for years to come.
Optimas customers are accustomed to seeing our team members on their shop floor because line walks are a natural part of our service relationship. Many even have a dedicated Optimas engineer on-site as part of their distribution program. Others often say, "You're my fastener guys. Get in here and help us make some changes." 
As a full-service distributor, Optimas can bring your supply chain closer to you. Instead of buying from many suppliers, some of whom are located overseas which comes with long lead times, we help manufacturers look at their entire fastener investment holistically.
Tricks and tools of the trade
Since many customers don't have an easy way to access their latest BOMs for parts, we often recommend implementing an internal parts database with part numbers, descriptions, and drawings, this reduces SKU and supplier proliferation and provides a single repository for necessary deviations within the fastener category.
OptiTech Solutions use the latest technology to automate inventory replenishment, saving customers time and money and ensuring consistency. Manufacturers no longer need to send someone around the plant every day to counts parts in bins or remember to reorder parts before (or, more likely, when) they run out.
Our engineers use SolidWorks 3D printing for prototyping and to improve the form, fit, and function of parts proposed or already in use. We also leverage BoltCalc, a program from Bolt Science, designed to provide joint simulations for torque tension and part viability.
In the production cycle, fasteners aren't always well documented. For varied reasons, parts in use are different from what was specified. In these cases, we can provide a part-to-print review by getting the company's prints, reviewing their parts, and comparing the design against the reality.
Setting up a Line Walk.
The line walk is the first step in identifying and addressing larger problems. And, in a multi-million dollar purchasing decision that can take 6+ months to make, it's extremely risky to NOT have a line walk done early in the process. If any supplier makes recommendations without visiting your facility, it's all theory and production, financials and morale can suffer as a result.
Even today, some companies still email their part package to several suppliers and choose the lowest price rather than the most value. That means they aren't asking the questions that come up before, during, or after a line walk. Simple, but impactful questions, like "Do we really need to be using every one of these fasteners or could we be using fewer, better, fasteners?"
A quality line walk requires knowledge and planning on the part of the manufacturer and its partner. The return should always be to help organizations reduce costs and increase efficiency.
If you've been dealing with inefficiency issues, you probably know change is coming whether you stay with your current supplier or not. If you've had delivery disruptions or underperforming parts, or observed inefficiencies that slow production, it's probably time to rethink your fastener supplier. And it is time to schedule a line walk with Optimas.