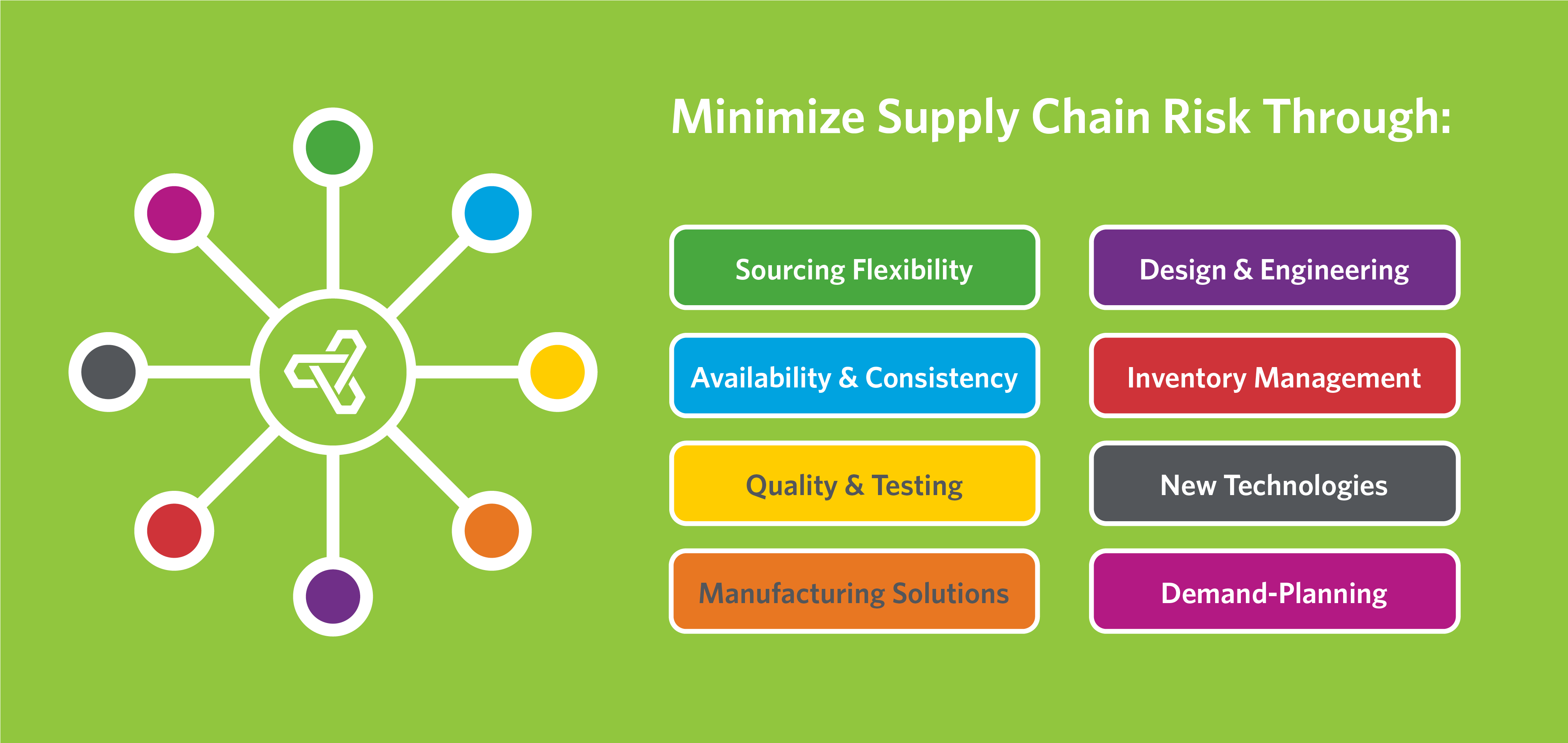 11 Questions to Minimize Your Supply Chain Risk
11 Questions to Minimize Your Supply Chain Risk
Among the many things occupying manufacturing executives' thoughts these days are questions about their supply chain. Minimizing risk and ensuring part availability, quality and inventory management factor heavily into their supply chain teams' short and long-term plans.
As a global leader in fastener sourcing, manufacturing, and design/engineering solutions, we have these conversations with industrial manufacturers every day. As a result, Optimas is in a unique position to provide answers that increase efficiencies and profitability.
Below, you'll find a series of questions forward-thinking supply chain leaders are asking as well as our expert insight to answer them. As you think through your company's fastener sourcing strategies, know that Optimas provides unique, dual sourcing solutions—distribution and in-house manufacturing—plus inventory management services. Built with a resilient supply base, proven technology and unique creativity, Optimas programs have kept global manufacturers producing products for 130+ years.
About Supply Chain Sourcing
How can I enhance my bench strength with other vetted providers for times of higher demand and when my customary sources cannot deliver?
Having the right fastener partnerships requires a periodic assessment of current and available resources, contributing business conditions, partner performance scores and more. It's why we offer a network of 4,000 global, regional and local suppliers and leverage our purchasing power to save customers time and money on engineered and standard fasteners as well as C-Class and parts acquisition.
Regarding Availability and Consistency
Is there a way for my company to more reliably obtain parts required to match our production levels?
This is one of the questions that indicate whether your supply chain is serving the business effectively. Here are several signs it's time to find a new fastener supplier:
Breadth of parts offered
Sourcing relationships and buying power
Sourcing alternatives, i.e., onshore manufacturing
Geographic considerations
Quality certifications
Demand planning resources
Localized distribution network
Financial strength
Executive leadership
How can I increase my visibility into the inventory available to me from my current service provider?
Optimas' suite of six inventory management solutions provides real-time data for on-hand and upstream SKU quantities of your inventory so you can confidently:
Keep your line properly stocked
Support material resource planning
Increase networking capital
Lower cost of goods sold
Increase operating profitability
Concerning Quality and Consistency
How can I identify the difference between a zero-defect culture and a new provider who may get the first order correct?
Related to Manufacturing Solutions
When is it best to manufacture rather than source a fastener?
As one of the few fastener distributors in the world with IATF- and ISO-certified cold forming capabilities and world class quality testing labs, Optimas has the capacity to generate a competitive advantage for companies seeking part acquisition options.
This unique combination of resources enables us to serve customers in the following scenarios where manufacturing a part is a better solution than sourcing:
High volume and low diversity requirements
Highly engineered parts that aren't commonly available
Reduced lead time for parts that are needed sooner than the current supplier can achieve
How can I tell if my current suppliers can introduce manufacturing for custom or HOT parts?
As to Design and Engineering
Our "Make vs. Buy" strategy leverages our ecosystem of in-house engineers, tool and die makers, machine operators and quality technicians. When you need complex fasteners with unique characteristics, Optimas engineers can analyze the joint and design the fastener, iterate through 3D Print and scale production with quality protocols—inhouse. Bringing these teams of experts together also roots out downstream production and performance challenges which elevates efficiency and product quality.
By comparison, ask yourself the following questions:
Can my current service providers offer 3D print or develop CAD drawings for potential new or prototype parts?
These services are the backbone of additive manufacturing processes that streamline development and reduce lead-time and costs. We advise that you look for a supplier who can help you as early in your development process as possible, and who can provide value-added engineering solutions that may save time and money.
When should my company outsource the application design of an individual fastener or component system?
When you see an opportunity to reduce cost and/or improve product quality and your organization does not have the time or engineering resources available. Another good reason to outsource is to have new eyes look at the problem and present solutions that might not surface from an in-house team that's already familiar with the product.
Speaking of Inventory Management
How can we automate day-to-day parts ordering, receiving, and stocking?
Suppliers with proven inventory management expertise can quickly implement programs that automate replenishment, storage, and distribution. Full- and self-service programs, supported by RFID and demand planning technology, provide insight into on-hand inventory and consumption patterns for production planning.
These programs can start small and become as complex as needed to improve re-order accuracy, reduce excess and obsolete inventory, free up valuable space and re-allocate valuable resources to higher value activities.
Pertaining to Technology
What technology can I incorporate into my operation that automates manual tasks and provides data for future planning?
A secure, cloud, just-in-time (JIT) inventory management solution offers robust technology—including predictive analytics and secure communications—to ensure the right parts and quantities are in the right place at the right time. There are a variety of tools—from hand-held scanners to weighted scales, chip-embedded bins to "hot" zones that read labels, transmit orders manually and automatically, create transparency and elevate productivity.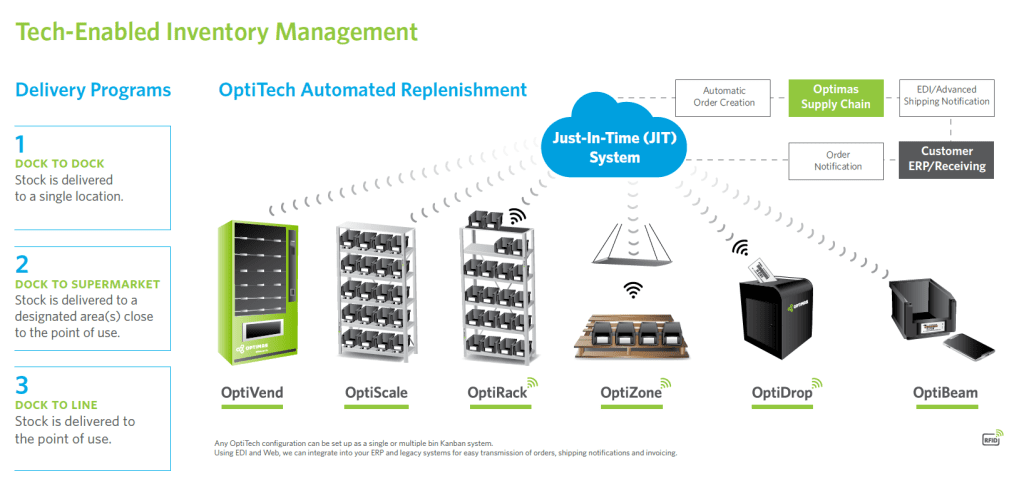 And the Financial Impact
How can my sourcing partner(s) impact my company's 'cash on hand,' and manufacturing efficiency?
One way to increase cash-on-hand is through better management of your on-hand inventory. A quality solution uses proven technology to replenish parts using demand forecasts and consumption data. Usage can begin with manual order approvals and migrate to automated over time. Receiving optimized quantities—regardless of requirements—keeps lines moving, morale up and facility free of preventable negative influences. Automation of these processes saves time, facilitates the reallocation to more productive and rewarding tasks and improvise efficiency. More precise control over inventory reduces excess and obsolete (E&O) payments which frees capital and floor space for revenue and efficiency enhancing initiatives. All of these outcomes from a quality inventory management solution increases throughput ultimately impacts cash on hand and efficiency in a positive way.
Conclusion
To summarize, many supply chain risks can be minimized through a thoughtful blend of dual sourcing, manufacturing expertise, design/engineering solutions and automated inventory management. At Optimas, we've built a track record 130+ years long in these areas and we stand ready to serve you now. To discuss your supply chain needs, talk to an expert at www.optimas.com/contact.