Dana Wuxi Presents Optimas Suzhou with Supplier Quality Award
Optimas Suzhou, a global supply chain and fastener expert, has been recognized for its focus on continuous supply improvement by driveline assembly manufacturer, Dana Wuxi Technology Co. The award was given to Optimas by Dana Wuxi for a number of quality initiatives that have helped to deliver an improved service year on year as the fastener supply partnership has matured.
Fastener supply partnerships rely on a versatile and knowledgeable partner, who can adapt to a manufacturer's specific needs in order to deliver optimum engineered solutions in a timely and cost-effective manner. A key component of sustaining such a partnership is service evolution, which is a process Optimas Suzhou has enacted to further deliver on Dana Wuxi's component requirements. With Dana Wuxi supplying assemblies to support OEM manufacturers of light, heavy duty and off-highway vehicles – continuous improvement and adaptability is of the utmost importance to tackle varied and sometimes unique component demands.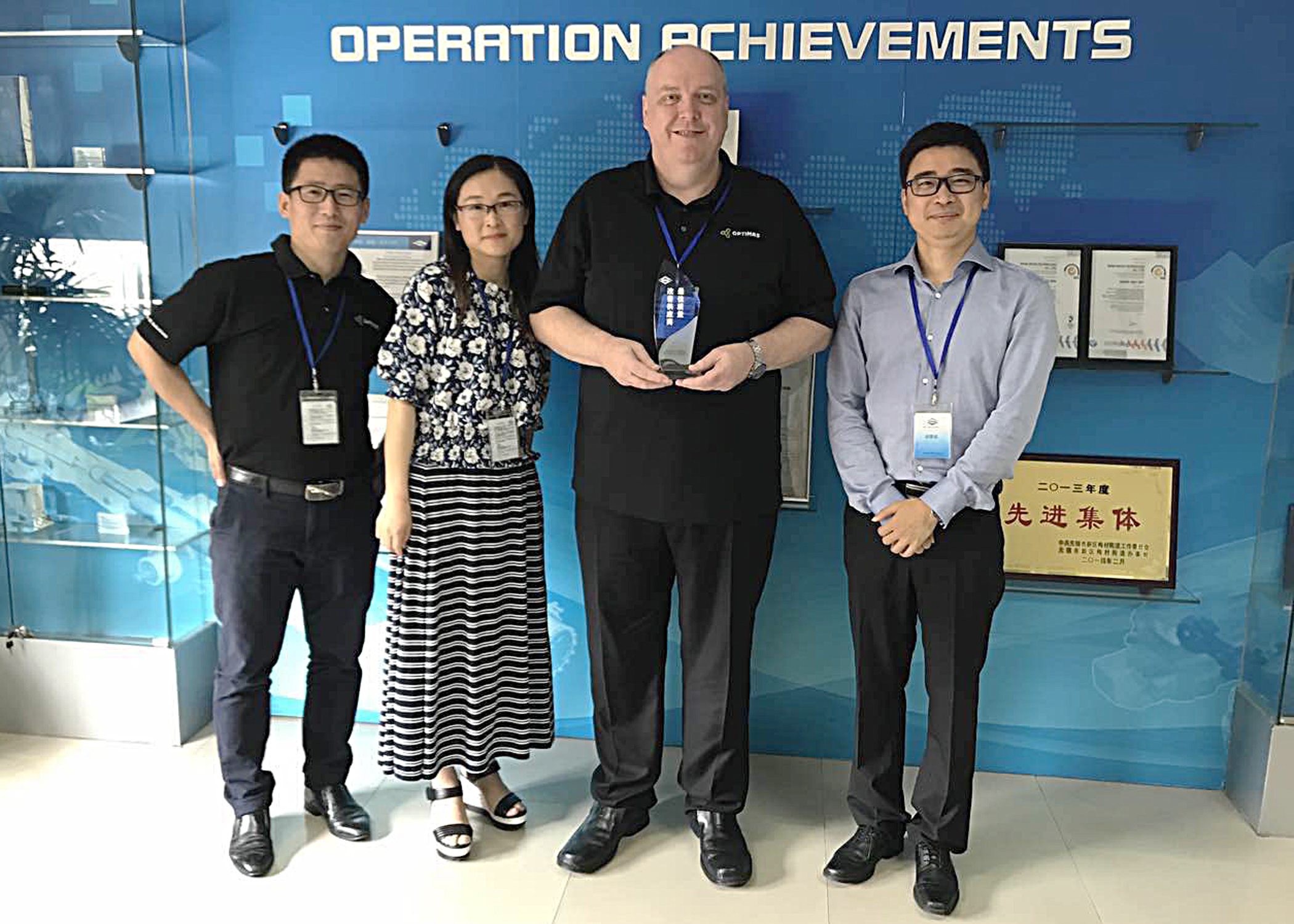 From Left to Right: Mick Zhang (Sales Manager), Joan Sun (Quality Engineer), Graeme Bassett (VP APAC), Elone Zhong(Regional Quality Manager)
To support Dana Wuxi effectively, Optimas created a preemptive component supply strategy, which serves to identify potential challenges before they arise and streamline part specification. A key element of this approach was Optimas engineers working closely with the Dana Wuxi team, with close communication ensuring an agile response to potential part issues.
Via an approach of consolidating the supply chain to trusted suppliers, Optimas also simultaneously improved the quality of supply. To further safeguard this quality, Optimas enacted a stringent policy of part inspections, which was especially important considering the increased mechanical stresses fasteners are subjected to in off-highway vehicle applications. The primary result has been a consistent optimization of the supply service, which has now been fully acknowledged by Dana Wuxi.
Elone Zhong, Optimas Suzhou Quality Manager, commented: ""This award shows our commitment to constantly providing a high-level service and stable quality in support of our customers. Through joint work with Dana China, we have been able to continually improve our supply chain and optimize our internal operational excellence to deliver a full service of fastener solutions, which in turn supports the customer's productivity and market reputation. Servicing the needs of an established Tier 1 supplier is by its very nature challenging, but by emphasizing zero defect culture and establishing strong collaborations with the customer, we can work in tandem to ensure the attainment of a suitable fastener supply policy."