Optimas Contactless Inventory Management Service Provides Total Workplace Safety and Efficiency
Gloucester, UK – January 28, 2021 – Optimas OE Solutions, a globally renowned manufacturer and distributor of precision-made fasteners and supply chain solutions, have introduced a new contactless managed inventory system to their growing line of value-added services.
The ongoing global pandemic has given rise to an increased focus on safety within the workplace and renewed efforts, industry-wide, to seek out new and improved methods of productivity.
The contactless replenishment system, available now from Optimas and part of the company's Manufacturing Solutions strategy, meets this demand by offering customers another way to keep valued team members safe from challenges posed by Covid-19, whilst dramatically reducing the time and cost required to reorder components.
Using a turnkey, fully delivered and installed rack and bin system, coupled with an advanced hand-held scanner, staff can simply scan a barcode to consolidate and reorder the parts required. This smart technology also ensures there is no requirement for dedicated on-site staffing and eliminates the need for direct contact with the shelved items. Additionally, Optimas can provide all the necessary staff training virtually, covering all aspects of this automated replenishment process, and best practices.
"At Optimas we are continually looking to offer the right services at the right time to our customers in an ever-changing environment. We are really excited about this latest value-added service in our programme that facilitates a secure way of providing a managed inventory service whilst keeping the workplace safe" Justin Parker, Senior Director, Business Development & Commercial.
With many of the company's fasteners manufactured in the UK, bolstered by an increased onshore stockholding, Optimas have taken the necessary steps to mitigate importation delays and offset tariff uncertainty as a result of Brexit. This continuity of supply safeguards customers from unexpected lead times, additional costs, and ensures stock is delivered on time, every time.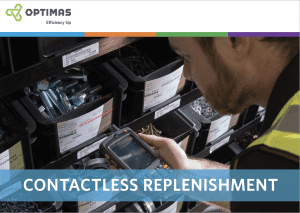 Download The Free Sell Sheet Now!
About Optimas
Optimas is the leading global industrial distributor and service provider specialising in fastening and supply chain solutions for manufacturers seeking to improve efficiency and profitability. We take care of the details so customers can focus on manufacturing cutting-edge products—giving them an unparalleled competitive edge.