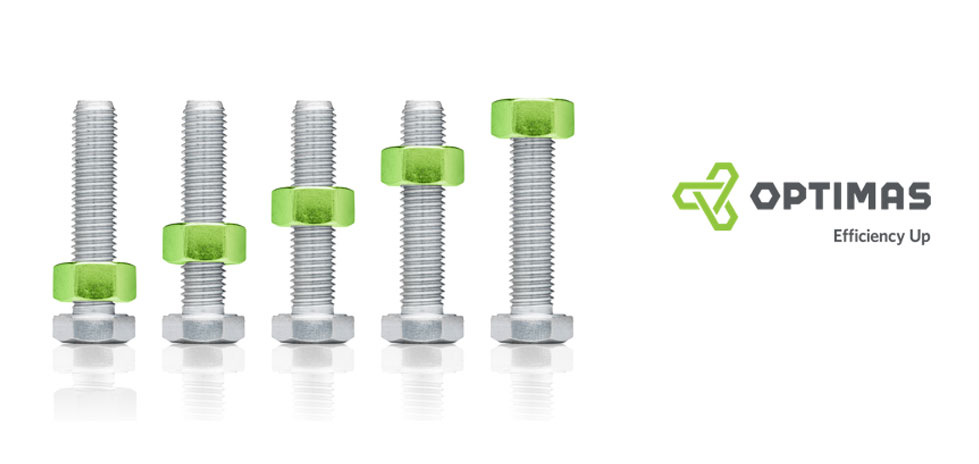 New Optimas Brand Reflects Our Promise To You
The new Optimas brand is about our relationship with you – our customers, our suppliers and our employees. It's about how we drive Efficiency Up in all aspects of business. This includes offering innovative ways to improve supply chain and inventory management, enhancing product quality and increasing productivity–all while maintaining our world-class customer service.
At Optimas, we build our relationships on shared values and goals, not just products and services.
We're excited about our new brand which was inspired by the qualities that have made us a global leader in fastening and supply chain solutions.
Our business was originally established to provide manufacturers with strategic solutions that make them more efficient and more profitable. And at its core, our business is about those partnerships. After all, without you, there would be no us. Our successful partnerships have taught us what our customers and suppliers needed, and we have responded with a brand that reflects those needs.
Facing The Future, Together
Manufacturers need strong partnerships with their suppliers to meet key challenges around risk, quality, and cost and prepare for the future. Our new brand reflects the role we play in making our customers successful and in being leaders in the supply chain industry.
We're putting our skills and passion to work with cutting-edge technology and solutions to transform our customers' supply chains for the future. It's based on a simple mindset: "Think beyond the part."
Thinking beyond the part means constantly looking for ways to drive productivity, increase savings and improve performance for our customers. It's knowing that a part as small as a fastener can have a huge impact on your manufacturing. It's promising to think big about even the smallest details. That's all part of our pledge to help you Efficiency Up.
It's Time To Efficiency Up
Our new tagline, Efficiency Up, conveys our strategy and promise to partner with our customers and suppliers to drive efficiency and profitability.
Our new brand also reflects our commitment to solving your key challenges to reduce your total cost of ownership and drive value across your enterprise, including:

This new messaging plays a role in everything we do–from our blog to our case studies to our new website. As a matter of fact, we redesigned the Optimas website to enhance your user experience, making it easier to do business with us. There you'll see new colors, graphics and imagery that are a reflection of our approachability and friendly service.
And, we're sharing new digital tools to help you be proactive to stay competitive and prepare for the future. In the months to come we'll be sharing new blog articles, case studies, newsletters and social media campaigns to help manufacturers stay-up-to-date on the latest supply chain news, industry insights and best practices.
Our Team Is Your Team
We act as an extension of your team to help streamline your operations, manage your supply chain and optimize your inventory. We also initiate and conduct continuous improvements using deep manufacturing expertise and advanced technology to grow your business and reduce your total cost of ownership.
In other words—we help you Efficiency Up in every aspect of your operation to ensure you are productive and profitable. And in order to be successful at that, we recognize that partnerships are what will make or break us.
We're meeting that challenge every day and our new brand is just one way we're making it known.
Welcome to the new Optimas.
We'd love to hear what you think of our new brand – drop us a line at info@optimas.com.