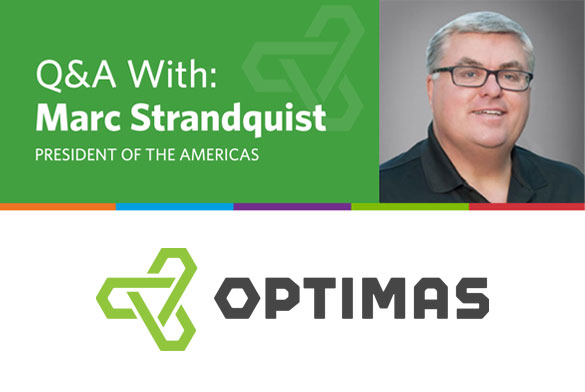 Securing Your Supply Chain During COVID-19 And Beyond
As we move past the halfway point of 2020, we asked Marc Strandquist, President of the Americas at Optimas, about the state of supply chains today, what we've learned so far and how to secure your supply chain for the path forward.
What is the biggest challenge for manufacturers right now?
The short answer is understanding true demand. Back in January, we saw customers building say, 200 units a day and then they were shut down in April. When manufacturers reopened and began to ramp up production, they started with maybe 50 units a day. This is significantly less than where they were six months prior, and many were making their best guess at the numbers. It's difficult to project and adjust production, especially in such a volatile market.
Further upstream from the manufacturers are the materials suppliers. The steel industry, for example, has had to adjust production to try and avoid rising inventories and declining prices caused by stagnant and curtailed production downstream.
We all hope and pray that if there is a second, national surge of the virus, that things are handled differently and we find better ways to protect our economy versus shutting everything down and starting this cycle all over again.
What are some of the other challenges that you've seen manufacturers struggling with?
Many suppliers are declaring force majeure or going out of business, leaving distributors and manufacturers stranded, causing major disruption in the supply chain.
The industrial industry has also had to deal with limited mobility and travel restrictions. They're not able to visit customers, meet with key accounts, and its hurting customer relationships.
And of course, some companies are struggling with cash flow.
Some companies were better prepared than others to handle this crisis. What did those companies do right?
I think they took a very aggressive stance on communication with their customers and suppliers. They made sure to supply constant updates and check-ins which provided a sense of comfort.
Also, companies that leveraged technology – digitizing as much of their supply chain as possible – had the right data resulting in better demand planning for defers and cancels that push out inventory – so they could have enough cash on hand.
What about those that were caught off-guard?
Communication is so important. Companies that did not communicate upfront and effectively with customers and supplier partners struggled the most. They couldn't react appropriately or fast enough. As we've all recently witnessed, a shutdown leaves us vulnerable and exposed. Clear and transparent communication makes it possible to better mitigate risk.
And, from what we've seen so far of the 2020 pandemic, supply chains built primarily on low cost, single source, and low inventory were the least equipped to deal with such massive disruptions.
Finally, I think not having strong relationships with the right suppliers and supply chain partners hurt many businesses.
What were some of the things you saw manufacturers doing to correct course and stabilize?
Companies with proper risk mitigation strategies in place, diverse sourcing, digitization, and strong relationships with suppliers were more resilient.
The companies who have begun to diversify their supply chains and implemented an onshore supply chain strategy, investing in domestic manufacturing, have lowered their risk considerably.
And the good news is, U.S. manufacturing will benefit greatly from this.
At Optimas, for example, we do high-volume, high-quality manufacturing in our Chicago-area facility. We're seeing an uptick in interest in sourcing domestically versus overseas.
What supply chain challenges will we continue to see into the fourth quarter?
The challenges for any company and its leaders will be the things beyond their control. By this, I mean more government shutdowns at the state or national levels. It will make it impossible to plan inventory, forecast demand, and adjust labor accordingly.
What can manufacturers do right now to stabilize their supply chain and minimize their risks?
Get accurate data on what you're going to consume. That's #1. As an industrial distributor, we don't have a problem getting inventory for our customers, but we need good data to ensure the highest level of service possible. Greater visibility is key.
What long-term solutions are needed to continue to secure their supply chains?
Every company should conduct a very thorough review of its supply base and commodity strategy. Make sure to enter into agreements with suppliers that are stable, financially viable, and have the capacity available to deliver. Going back to what I said earlier, transparent communication and relationships are critical.
How might supply chains be forever changed by COVID-19?
There is no question that there will be a whole new way of doing business. There will be less human contact, more Zoom/Teams meetings, and likely more restrictions on travel as well. These things will be with us for a long time. But it's an opportunity for all of us to get creative in how we interact and reach our customers to help them achieve their business goals.
I also anticipate continued interest in domestic manufacturing. Manufacturers are looking to lower their total cost of ownership, as well as receive better support for their own production and customers.
What will the rebound look like as we emerge from COVID-19?
Those that took this time to focus internally on the business, train their people and make their companies stronger will be the ones who can get out there and grab some market share. Those that were passive and wasted their time will be left behind – big or small. There will be a lot of aggressive behavior out there to get market penetration.
At Optimas, we've been quite busy the last five months. We're better prepared to gain market share and grow because we've been investing in technology upgrades, expanding into new markets, and adding new product assortment for our customers.
What is one thing you have learned as a leader during this time?
I had to change my thinking about working from home. I was not a fan of the concept before the virus. I thought that it would degrade the business or be too difficult. The downsides are that you lose a bit of team camaraderie and company culture suffers when you're all remote. It ended up being a seamless transition. We made sure our people had access to what they needed so they could continue to do their jobs.
How can we be ready for what's next?
Make sure your team understands that your customer doesn't want to be sold to right now – they want answers and help figuring out what's next. Respond quickly to customer needs and make sure your people are properly led and trained to work in the current conditions. There will be opportunities out there, but you need to be properly prepared and flexible.