Mission
To deliver scalable and reliable supply chain and manufacturing solutions through industry leading technology and innovation, powered by our values and connections with customers, suppliers and employees.
Vision
To simplify complexity for our customers while we develop and support our team.
Values
We focus on core global values: Teamwork, Honesty, Respect, Excellence, Accountability and Drive, referred to as THREAD.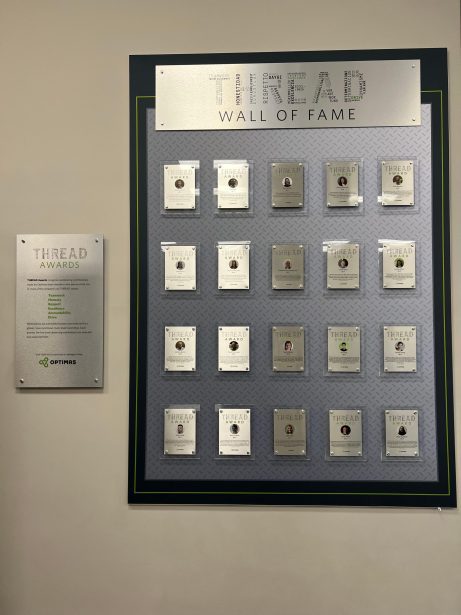 THREAD Values
Teamwork
We are collaborators. We are one unified team. We see our customers and suppliers as partners.
Honesty
There is integrity in everything we do. Everyday.
Respect
We listen. We do not rely on assumptions or preconceptions. We work to solve problems together.
Excellence
We are focused on learning and continuous improvement. We want to understand the details of any situation.
Accountability
We embrace accountability and responsibility at every opportunity.
Drive
We never quit. We are relentless in our efforts to continuously grow.
Our People are our biggest differentiator.
Optimas' THREAD Award honors employees quarterly that exhibit the THREAD core values. Peers can nominate any individual seen demonstrating THREAD values as a way of recognizing all members of our team that make us Optimas. Click here to see spotlights of our different THREAD winners throughout the year.
Diversity, Equity and Inclusion (DEI)
Our THREAD values of Teamwork, Honesty, Respect, Excellence, Accountability and Drive only come to life when we embrace our diverse employees and make inclusivity a priority. That's why we are excited to announce our new Diversity, Equity and Inclusion (DEI) Policy that serves to enhance existing regional practices.
We are proud of our diverse staff around the world and are committed to the following DEI values:  read more here.
Our Leadership Team