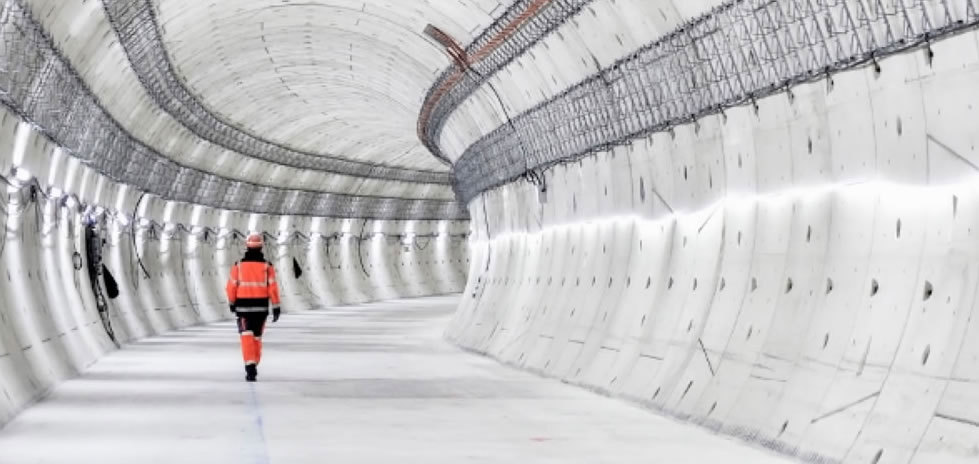 How to Find The Optimal Fixing Design to Meet All Tunnel Project Requirements
Tunnel strength and stability are essential. Considered from the very first planning stages, their importance extends throughout the project. An often overlooked portion of the project that can have an impact on final strength and stability is the lining system. In fact, high quality ring and segment fixing components can reduce construction time whilst improving flexibility, durability, safety and cost-effectiveness.
Christophe Delus, Director of Tunnel Division at Optimas Solutions, looks at the main challenges and the aspects to consider when choosing assembly systems for tunnel projects.
Tunnels are constructed using separate rings and segments that are then connected together. During the installation of these parts, it is important to seal the tunnel from water ingress and prevent rings from opening or ovalizing, which results in the misshaping of the tunnel and undermines the fundamental strength of the entire construction. To avoid these issues, fixing solutions -or connectors- are used. In order to provide an optimal performance, these connectors need to withstand project-specific stressors, e.g. shear resistance or tensile strength.
More precisely, the choice of tunnel connection and alignment systems is influenced by several factors, the main ones being location characteristics and ground conditions, local common practices, safety requirements and project budget. The optimal solution should fulfil all these project-specific criteria, providing a solution that is safe and durable, adapts to the site conditions, and whose installation is time- and cost-effective.
Location, location, location
Every tunnel is built to overcome a specific obstacle, thus the local conditions play a major role in the design and selection of suitable components. A clear understanding of the challenges and issues presented by the location is essential to finding a safe, durable, cost- and time-effective solution.
For example, one of the main challenges that Optimas Sofrasar had to address during the construction of San Francisco's Municipal Transportation Agency (SFMTA) Central Subway Project, U.S., was the seismic hazard. To manage this risk, it was necessary for the lining to be strong and flexible, in order to deform without breaking. Therefore, a Sofrasar products dowel system was tested and studied to provide high resistance and distortion capabilities.
Another site, the Los Angeles Westside Subway extension I, U.S., was characterised by the presence of methane gas associated with corrosive hydrogen sulphide. A similar situation was experienced while developing the Inner Doha Resewage Implementation Strategy (IDRIS) project in Qatar. In both cases, high-density polyethylene (HDPE) in-liners were casted to provide protection against corrosion. The solution also proved to speed up the building activities.
In this occasion, the local environment was not the only factor determining what the best fixing solution is: the accessibility to certain materials also needed to be considered. In fact, adhesive solutions were initially planned. However, it soon became evident how challenging it would be to ship or supply a suitable epoxy to the site. In this instance, Optimas reacted promptly and substituted the glued guiding rods by developing new clip-on guiding rods. The alternative provided additional benefits, including better adherence and durability, as well as less hazards associated with glue.
Finally, sometimes fixing and lining design can help solve other environmental issues, like preventing mosquito breeding in segment openings. Optimas Sofrasar products delivered just such protection in Singapore tunnels, thanks to the use of clip-on guiding rods and breakaway socket-holders.
High-quality, durable components are economical in the long run
From the examples above it becomes apparent the importance of choosing tunnel fitting specialists that have a thorough understanding of the project's requirements and can improve the existing equipment or develop new connectors to provide an optimal link system.
To do that, the fitting specialists should communicate regularly with contractors, designers, moulds and gaskets suppliers and tunnel-boring machine (TBM) operators. This strong relationship allows the fitting specialists to better understand the project and its site, as well as promptly adapt and respond to new challenges and provide a high-quality service.
High-quality services don't necessarily translate into high costs. While tunnels are among the most expensive construction projects, the costs of assembly systems are often marginal, in some cases they contribute to less than 1 percent of the total expenses. Therefore, opting for more expensive, high-quality ring and segment accessories doesn't have much effect on the initial project budget, yet can provide an easy-to-assemble, durable, safe solution.
If the components can be installed quickly or its supply is time-effective, as in the case of Doha IDRIS, then operations on-site are minimal and fast, saving time and money. In fact, a high-quality innovative component that is fit for purpose isn't always the most expensive option. That is the case for the divisible socket type ZU, developed at Optimas to prevent ingress from dust or water during casting or storage. The device, cheaper than a steel equivalent, saves approximately 50% on screwcaps and reduces the overall Bill of Materials (BoM) for tunnel manufacturers.
Furthermore, high-quality connectors can also reduce maintenance costs. While in some cases they may only be necessary during the construction stage, they may be required to remain permanently in the tunnel structure, e.g. in water conveying tunnels or structures in seismic areas. In these situations, the connectors should be as durable as the entire tunnel structure, i.e. a service life of 120 years. Any unexpected failure or early replacement can raise the total tunnel costs and pose a hazard to workers and users.
Safety first
A failure in the tunnel fittings can result in replacement costs of over $ 2 million and put the structural integrity of the tunnel at risk. Therefore, finding components that meet high quality standards is key. While clear quality guidelines that offer an industry standard for such products may still be missing, fixing component specialists should test that their products provide the necessary mechanical resistance and performance. This is achieved by performing specific protocol testing, either in-house or by third parties. Furthermore, not all quality standards are equal; and high-quality components manufacturers should adhere to the strictest ones.
Optimas has long been testing all Sofrasar products. For example, part durability testing is performed on each of system. In addition, Optimas is committed to developing quality standard guidelines for fixing components. In this way, we provide durable, flexible and safe solutions for any tunnel construction.
Fixing for success
If you want a successful tunnel project, do not underestimate the importance of the link system. By choosing highly skilled fixing components specialists, you can secure a supply of the most suitable high-quality parts that match with the project-specific requirements, in terms of location conditions, overall tunnel design and suitable supply methods. By understanding what is needed, the specialists are able to recognise when standard connection solutions do not fit with the project requirements and act accordingly: modifying pre-existing components or designing and manufacturing new ones.
With over 20 years of experience in the tunnel industry, the competences from the Optimas' tunnel experts allow us to understand the project-specific needs for any tunnel solutions. In addition to providing the most suitable high-quality standard components, we are also able to optimise the performance of existing products or provide bespoke solutions thanks to our in-house manufacturing and quality testing facilities.