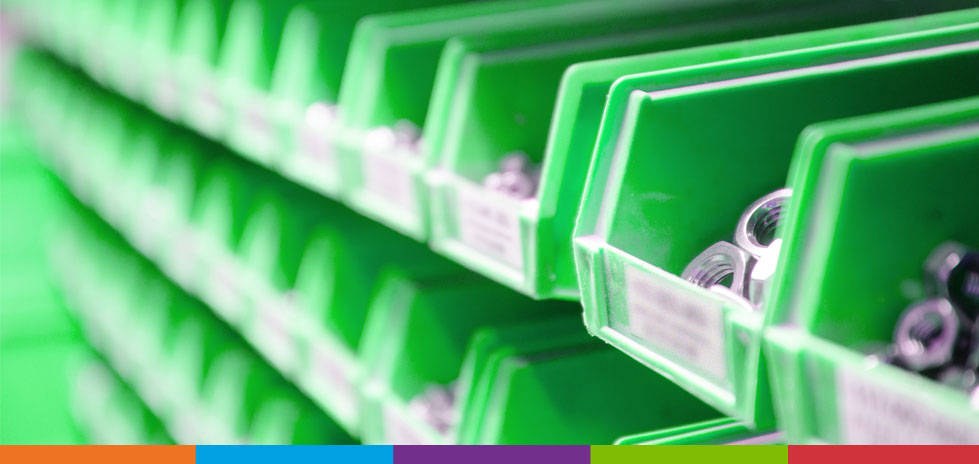 How to Remove Potential Roadblocks in Inventory Management
For manufacturers, efficient inventory management is a North Star. When you look at its impact on the whole supply chain, it becomes clear why inventory is king now — and why it will remain so for the foreseeable future.
The key to efficiency is for decision makers to anticipate potential disruptions and demand spikes, then either minimize the impacts of potential roadblocks or outright remove them.
6 Strategies to Avoid Inventory Management Roadblocks
Whether inefficient inventory management is a worry for you now or could be in the future, the following strategies can help you get out in front of it:
1. Choose the right inventory management partner.
If you're on the hunt for inventory management relief, chances are that the status quo has your operations sputtering. Selecting a third-party inventory management partner gives manufacturers an expert resource and the chance to achieve inventory management efficiency with more flexibility. Choose an inventory management partner that can provide:
Master data management experience that captures, organizes, and displays the right forecasting, scheduling, and inventory data to elevate transparency.
Forecasting models, using a mix of quantitative and qualitative data, that illuminate incoming demand and offer the opportunity to plan accordingly.
Automated solutions that spot issues before they arise for current and potential customers.
End-to-end solutions that support efficient inventory acquisition and management via distribution and manufacturing. Value-added engineering and quality services also offer front- and back-end security for product innovation and analysis.
2. Select the right inventory management software provider.
If you choose to invest in multi-echelon inventory optimization software, remember that you're choosing a partner, not just the technology. Be sure to consider these tips for selecting the right inventory management software vendor:
Focus on business challenges first. Document your business objectives instead of starting with a list of software features. Then, determine which vendors can help you meet those objectives.
Consider doing a "test drive" of the inventory software with a proof of concept to make sure it meets your goals before you purchase. That includes understanding everything that will be required to implement the software, extend it to other parts of the business, and manage the change in your organization.
Define long-term success. Where are you starting, how are you going to mature, and how are you going to use both the solution and the partnership with the vendor as your company grows and changes?
3. Strengthen your bench.
Product availability in the supply chain becomes less of an issue when you add to your list of inventory partners. According to the 2021 Thomas "State of North American Manufacturing Report," 83% of manufacturers plan to add to their pool of suppliers. Working with several inventory partners lessens the likelihood that inventory deficiencies will impede your inventory management efficiency.
Today, manufacturers are grappling to keep commitments to customers while demand for parts and components is high and raw material shortages are widespread. As a result, inventory mixes can get wonky. Here are a few tips for how to better work with supply partners to maintain healthy inventory and service levels:
Be transparent about production forecasts so they have advance notice of what they can deliver and when. Visibility into supply requirements over a longer horizon sharpens your upstream plan and allows you to plan further in advance.
Run what-if scenarios to assess the impact of supply changes on stock targets (e.g., extended lead times, transportation snarls, and different ordering frequencies).
Look for alternative locations and/or already-qualified partners you could use in the short or long term to diversify your supply base.
4. Find a partner to help keep inventory costs in check.
Within the past year, 70% of parts lists re-sourced by Optimas helped its customers cut costs. Having a quality partner to re-source with can help with inventory costs, productivity, and safeguarding your supply chain against looming disruptions.
Having healthy inventory levels — and avoiding stockouts or obsolete inventory — starts with a reliable demand forecast that is driven by what consumers want. A good inventory management partner and software help you assess inventory based on future customer demand and product availability.
With reliable forecasting, you can drive product availability as high as 99% and combine it with good inventory management to reduce lost sales by 20% to 50%. It's common to see a 15% to 30% reduction in inventory while improving product availability and inventory turns.
5. Embrace real-time data.
Supply chain data can't be static. The information steering your inventory management processes needs to be current and reflective of the present circumstances. Several manufacturing solutions exist to help you gain clarity on your available products and illuminate potential issues with inefficient inventory management.
When you have real-time data as part of inventory management, you can:
Understand the current demand trends and changes in trends.
Ensure inventory levels can meet current demand (and on time) and shift inventory to the locations that best meet customer demand.
Focus capital on items that are selling more or generating greater revenue rather than investing in lower-tier items.
6. Boost labor productivity.
People play an integral role in inventory management. A partner, for example, can help free up your team to bring more high-level inventory management issues into focus. Look for a solution that helps consolidate tasks, automate workflow, and reallocate resources to maintain inventory and retain momentum.
Automation Can Improve Productivity and Results
It's best to approach automating supply chain planning in stages. Calculating baseline demand and cleansing data is the ideal place to start. At this stage, intelligent software can generate a reliable demand forecast, and planners can enrich it with their own knowledge. As the system gets smarter over time, planners can take a hands-free approach and deal with exceptions. This allows planners to focus on adding value through business smarts and market intelligence.
For more sophisticated problems such as forecasting inventory levels in line with new product introductions or promotions, advanced analytics such as machine learning can raise the game even further. Machine learning in demand planning identifies the effect of demand indicators, thereby adjusting the baseline demand forecast.
No matter what is causing your inventory disparity, it doesn't have to continue impeding your supply chain success. Supply availability keeps that momentum going, so make whatever adjustments are necessary to make sure inventory remains king.